Babies don't need much, but having a few simple, well-made toys can help baby learn, improve hand-eye coordination, practice fine motor skills, help with making connections, and allow for sensory exploration. These are some items our babies loved.
This page includes affiliate links. Basically, if you choose to purchase any of these items through the links provided, you will be supporting this website and my family at no cost to you.
interactive books

These books were meant for the curious baby. They are bright, engaging for little eyes, rip-proof, chew-proof, and non-toxic. Plus, they are easy to stash in a diaper bag.


This sweet little book has flaps that make lots of fun noise and is great for sensory exploration and working on fine-motor skills. I have a picture of Levi "reading" this book at three months old in his car seat. It also includes great suggestions for how to enhance the book for older babies.


play mat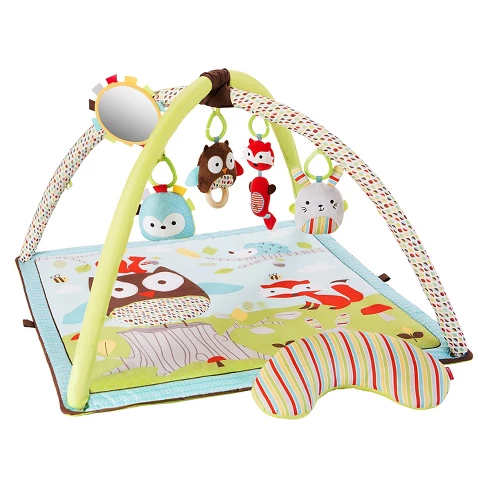 Both our children enjoyed this simple, sensory gym for the first several months of their lives. They liked to reach for the animals, see themselves in the mirror, and hear the different sounds each animal made. It is also great for tummy time and a soft place to practice rolling over.
sensory toys
One thing my kids still love is music. This little set was a Christmas gift for Levi when he was seven months old and has been used ever since. The set is perfect for little hands, and each instrument makes a different sound.

These adorable veggies are fair-trade, made out of organic materials, and fit just right in baby's hand (and mouth!). They have a nice weight to them and are so soft. The mushroom is made out of terry-cloth, allowing for some textural diversity. They also can be used later for children who want to play store or house.
Lucy loved her scrappy cat and elephant and Levi his scrappy dog. With long arms and legs, it is easy to hold and manipulate and chew on. They are fair-trade, made out of Egyptian organic cotton, and are durable (I've thrown mine in the wash on several occasions). Plus, they're adorable.
Levi loved these balls as a baby, and still are used in our house (particularly  because they are soft and safe to throw indoors). Varied in size, color, and texture, these balls are fun to play with. They're also BPA free, which is good, because my babies loved to chew on them.
We love the Melissa and Doug toys for our children because they are high quality, educational, and engaging. This simple bead maze can suction onto surfaces and is great for introducing colors and shapes.
stacking and sorting
What I like about these BPA free blocks is how easy they are for babies to handle. They are soft and squishy, easy to stack and fun to knock over. They have little animals and numbers on each block, so they can be used for little educational moments as well.
These cups were and are our only bath-time essential. Both our kids like using them to dump water. Not only do they stack to make a tower, but they can be used to teach math when baby grows. The volume of water that fits in each cup is represented by its number. I like that they're made from recycled, food-grade material, too, and are easy to throw in the dishwasher for a quick clean-up.
Stacking toys are always a hit with young ones, and this one is my favorite. It is durable and able to be stacked in different ways. My kids love the sound of the pieces clanging together, too. They're made in the USA out of recycled milk jugs, which is fantastic.
I like the Green Toys company a lot, and their shape sorter is a fun, simple one for little hands to manipulate. A shape sorter is great for learning shapes and practicing hand-eye coordination.

Check out our baby products page for more of our favorite baby things.